Dutch Cleaning Mill
Siloweg 2
4338 PA Middelburg
Nederland
Tel.: +31 (0)118 614 3 58
Fax: +31 (0)118 626 5 65
Email:
[javascript protected email address]
KvK: 220 35 935
BTW nr.: EORI NL802 746 615 B01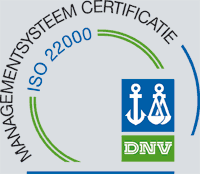 DCM Client
Bent u een opdrachtgever
van ons? Bekijk de huidige
voorraad van Uw partijen
in onze online
Voorraadadministratie
Packaging
Dutch Cleaning Mill owns two semi-automatic packaging systems, suited for packaging in sackcloth, polypropylene or paper with weights between 25kg to 75kg.
The bags can be marked with a printed text and/or a label and are able to be palletized, possibly accommodated by foil or a slipcover. Next to these packaging assembly's there is also a bigbag/filling station.
Packaging materials
The packaging materials used by DCM that come into direct contact with nutrients meet the required framework regulation 1935/2004(part of the Dutch commodities law RVG).
synthetic packaging meets the 2002/72/EG guideline.