Dutch Cleaning Mill
Siloweg 2
4338 PA Middelburg
Nederland
Tel.: +31 (0)118 614 3 58
Fax: +31 (0)118 626 5 65
Email:
[javascript protected email address]
KvK: 220 35 935
BTW nr.: EORI NL802 746 615 B01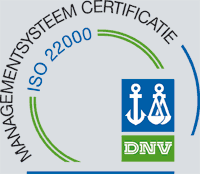 DCM Client
Bent u een opdrachtgever
van ons? Bekijk de huidige
voorraad van Uw partijen
in onze online
Voorraadadministratie
Disclaimer
The information presented on this website has been carefully compiled. Effort is made to keep the information relevant and up-to-date. The contents of the website is re-evaluated internally on a regular basis. Despite this all, no rights can be derived from this information. Dutch Cleaning Mill does not guarantee the correctness, completeness, actuality or quality of the information. When in doubt, please contact Dutch Cleaning Mill.

General information
Dutch Cleaning Mill maintains general data on it's visitors. Such information relates to the most visited pages on our website as well as on our services. The goal of this information is to optimize the usability of our website. We check the number of visitors, search robots etc. This all pertains to number statistics, through these numbers no identity information can be attained. Nor would it be relevant to attain identities associated with the numbers.

Usage website/damage
Dutch Cleaning Mill is in no way liable for any damage or losses as a result of usage of the information provided on this website.

Personal data
When creating a personal profile, Dutch Cleaning Mill requires some data, such as your name and e-mailadres. We use this data so we are able to contact you concerning interesting vacancies and other relevant information for use on the website. We will only do so if you express interest in these services.

Cookies
The Dutch Cleaning Mill website uses cookies when offering her services. Cookies are small files which an internet browser (i.e. internet explorer/firefox/google chrome) will place on your harddisk, so that a website can recognize when that user returns to the website. Cookies allow for benefits such as personal settings which include usernames, passwords and other custom preferences.

Dutch Cleaning Mill has the right to change this privacy policy in case of changes to our standard policy, company policy or if the law or jurisdiction warrants this.

Questions
For questions or concerns regarding our privacy policy, please e-mail to info@dutchcleaningmill.nl with subject 'Privacy policy'.

Dutch Cleaning Mill